About PKR
PKR offers something completely different and is certainly a niche provider in the online poker space. If you want an immersive poker experience when you play online then PKR and it's 3D graphics, customisable characters, chip tricks and emotions is probably what you are looking for.
Established since 2005, no other online poker operator has been able to recreate what PKR have done, in turning online poker into a 3D experience just like playing a video game.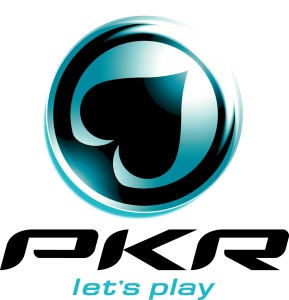 You can choose your bonus package from $5 instantly free or 125% deposit bonus up to $500
On top of your Bonus all new players from Poker Professor will get a free gift package
PKR is the only room that offers a 3D experience and video game graphics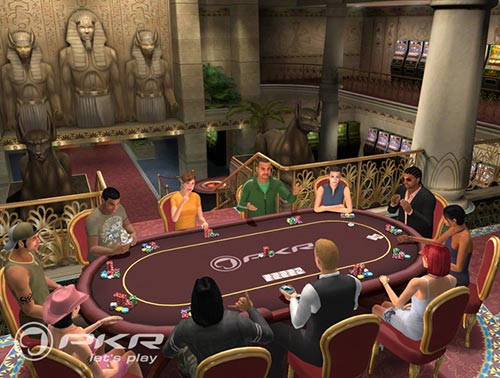 Software & Graphics
The PKR software is taking online poker to the next generation with the first 3D software client which has really taken off.
The 3D PKR software feels more like a video game than the traditional 2D poker software that we're used to from other online poker sites. The reason for this is that PKR have succeeded where others have failed by delivering this 3D "video game" experience at the same time as delivering a stable piece of software and user experience.
The trade off for this is slightly slower game play as it takes a little longer while players check their cards just like in a live game etc, but the delay is minimal.
The graphics on the PKR software are quite outstanding and the fun animations at the tables really add an extra dimension by allowing you to taunt your opponents, do chip tricks while you are waiting for your turn to act and many other things.
You also build up your online persona, by dressing your character and you can use your player points that you earn playing to buy additional clothes and accessories and things like great new chip tricks to expand your online character and build it up over time.
It's really hard to explain just how impressive the PKR software is and you really must download it and try it out to experience this new type of online poker.
PKR is available both Windows and Apple Mac platforms, and is also available for mobile and tablet platforms on iOS (iPad / iPhone) and Android.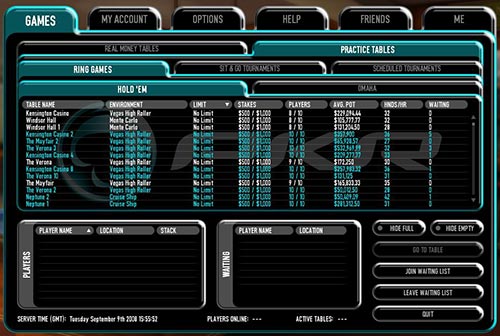 Game Availability
Player Traffic
The traffic at PKR is fast growing and in recent times the room has been heavily marketed attracting lots of new players and growing the traffic.
The traffic still cannot rival the bigger poker sites, but PKR offers something different and this is slowly but surely attracting more and more players.
During peak times you will find on average 805 players online which doesn't sound a lot when you compare it to the big online poker rooms, but PKR is a niche and remember you are only ever playing with a few people at once. Traffic at PKR is plenty to ensure that there are always games available, even if the choice is limited somewhat.
Game Variety
Sensibly, PKR has limited the games available to just Texas Holdem and Omaha (including Omaha Hi Lo). This makes sure that the limited traffic is directed only to those two poker variants and keeps plenty of tables and tournaments open.
Although this means that you will have to play elsewhere if you want to play 7 card stud or other variants, the reality is that most of the players who are interested in what PKR provide will be Texas Holdem players.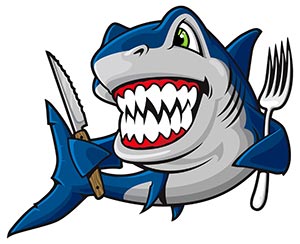 Player Toughness
This is one of the major benefits to PKR. The truth is that the 3D video game software is attracting a whole new type of player to online poker and the good news for experienced players is that this new type are inexperienced casual players, which means that PKR provides some of the softest competition available.
Professional players are not attracted to PKR as it is slower than other online poker sites due to the animated actions and this means that less hands are played per hour which for a professional player is an important metric as the more hands they play the more money in theory they should win.
This is great in that it clears all the professional players out of the way and just leaves inexperienced players for us players who have a little knowledge about poker to go and clean up at the tables!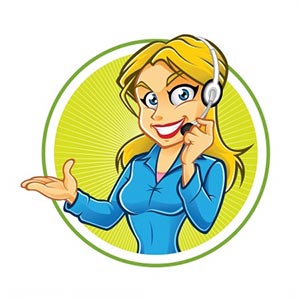 Customer Friendliness
Customer Support
The PKR customer support is excellent. I found their telephone support to be friendly and helpful and also had a very quick response to my email enquiry. Their UK based support staff appear to be very helpful and knowledgeable.
Deposit / Withdrawal Options
PKR offers a number of the most common forms of deposit, including credit cards and online wallets, which are detailed in the data section of this review.
There is no delay with most types of deposit and I had funds instantly in my player account ready to use within seconds of making a deposit.
Withdrawals can also be made via all the usual methods and processing times  I found to be very fast.
Rake
The rake is the commission charged by the poker room and is in line with the industry norms.
On the low stakes tables (5c/10c) the rake is really low at 1 cent per 10 cents in the pot with a maximum of $2 each hand.
For stakes up to 25c/50c this changes to 1 cent per 20 cents in the pot and a maximum of $3.
For all higher stakes the rake is fixed at 5 cents per $1 with a $3 maximum.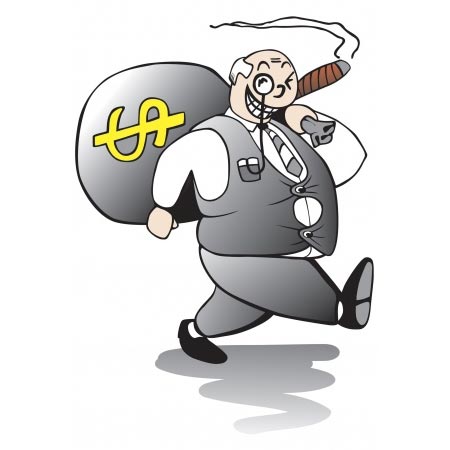 Bonus / Promotions
We have a good relationship with PKR and any Player from the Poker Professor Community who signs up to PKR using any link on Poker Professor gets an excellent welcome package.
First Deposit Bonus
First you get to choose from a choice of First Deposit Bonuses:
Starter – $5 Free – Bonus Code: welcome5
Just deposit $10 or more and earn 1 single PKR point and $5 will be instantly credited to your player account.
Intermediate – 100% up to $150 – Bonus Code: welcome150
Just deposit $25 or more and PKR will match your deposit up to $150 which will be credited to your player account in 5% chunks as you reach player points targets (which are quite reasonable)
Advanced – 125% up to $500 – Bonus Code: welcome500
Deposit $150 or more and PKR will give you a bonus of 125% of your deposit up to $500 which will be credited to your player account in 10% chunks as you reach player points targets (which again are quite reasonable)
Free Gift Package
On top of this for those players from Poker Professor who take up the Intermediate or Advanced offers will also get an amazing free gift package to get you started on PKR.
This includes a free ticket to the $20,000 Mini Masters tournament, an automatic upgrade to Club PKR, 1000 free PKR points to spend on customising your player avatar and a range of other freeroll tickets – quite amazing value and a big thanks to PKR for offering this to Poker Professor players.
Player Loyalty Scheme
Each time you play on PKR you are rewarded with PKR points and you can use them to cash in on lots of goodies.
You can use them to improve your online character by buying in-game items such as clothing, accessories and chip tricks, to create just the right table image that you want for your character.
You can also use your player points to buy a ticket into one of PKR's premium freerolls. Finally if you've had enough of dressing up your online persona, you can take care of your real life one by using your player points to buy a range of cool PKR gear.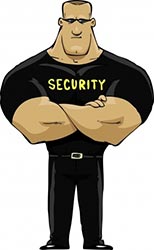 Security
PKR is the only online poker software developer to be licensed by the UK Government and is also regulated by the Alderney Gambling Control Commission, so you can be assured that in order to achieve these accreditations they have to pass the most stringent of security and integrity tests.
PKR has this to say about their software security:
"It is a requirement of the Alderney Gambling Control Commission that an independent testing house evaluates a licensee's RNG, operating procedures, systems architecture, technical infrastructure, site security and the veracity of the games themselves. PKR Ltd has been evaluated by Gaming Associates, an Australian based testing company and we have met their requirements."
HITS
The only 3D Poker Experience which makes you feel like you are playing real poker
Lots of inexperienced players attracted by the video game experience leading to soft games
Great Free Gift Package for new players from Poker Professor
Unrivalled software and graphics that must be tried to be believed
Safe and Secure as a well established and well regulated UK company
MISSES
A niche operator with limited player traffic
Only Texas Holdem and Omaha offered
Slower game play due to the player animations meaning less hands per hour than 2D poker sites.
Support The Poker Professor Community
If you have benefited from the free content we produce on Poker Professor then we kindly ask that you support the Poker Professor Community. The more support we receive, the more great free content we can produce.

Sign up to Poker Rooms using the links on Poker Professor

Like or Share an article or course you enjoyed

Link to us and recommend us from your Blog, Website or Forum accounts